During the summer and fall months when the temperatures are warm and there is no snow or ice anywhere, most home owners choose to do roof replacement on their homes. But what happens when you need a new roof during the winter months in Novi Michigan? In this article I'll discuss some of the things you'll need to know if you are considering getting a new roof installed on your home during the winter months in Michigan. 
❄️🏘️🏠💁‍♂️Winter Roof Replacement Tips for Novi Michigan ✅ ❄️❄️
Most people have a huge misconception about getting a roof installation project done in the winter. You may have heard things about the warranty not working or the shingles not lasting that long but many are misunderstanding about the roofing system in general. Since most homes have asphalt or composite shingles installed I will focus on that roofing system. It's the most popular roofing type in Novi Michigan and surrounding areas.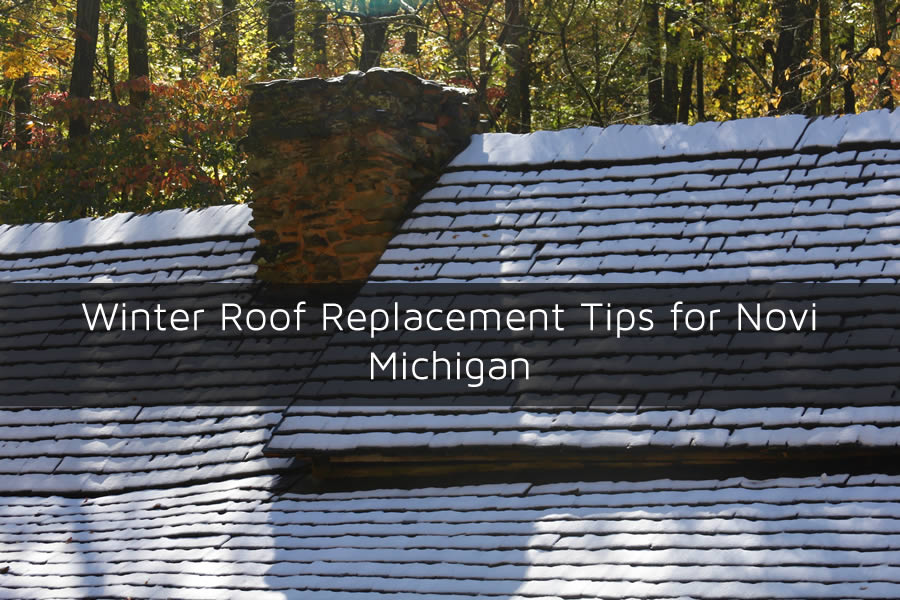 Do You Need a New Roof Installed?
Getting a new roof installed on your home usually isn't something you do simply because you're wanting a change. Instead, getting a new roof is usually out of neccessity. When your roof is leaking and damaging areas on the interior of your home it's time to act no matter the season we're currently in. Putting off getting a new roof simply because of winter can lead to all sorts of problems and cause more damages on the interior of your home from leaking water. This leaking water can be worse in winter if snow and ice is present on the roofing surface where the roof leak is occurring.
Why Does The Season Matter When Installing a New Roof?
In order for shingles to properly seal they need to be in temperatures above 40 degrees Fahrenheit. This allows for the sealant between the shingles to properly seal to each other making the roof more of a one part roof rather than lots of little pieces. The process can take days or even weeks for the shingles to properly seal and the summer and fall months usually have the ample days for this to happen. Once the weather warms however the sealant will then seal to the shingles.
Does Temperature Affect Warranty on the New Roof?
Different roofing manufacturers will have different specifications on warranties and the length of those warranties. Many times however the temperature when the shingles were installed will not have any effect on the warranty of the new roof. You will need to check with the roofing contractor in Novi Michigan and the type and manufacturer of the roofing materials in order to be sure however. Make sure you get the warranty information in writing as well for better protection for your new roof.
Choices of a Roofing Contractor for Roof Replacement During Winter
During the winter months there is usually many roofing contractors who are available for installing the new roof. Since winter is usually considered the off season for installing new roofing on a home in Michigan many contractors are open for the project. During summer months you may need to be placed on a waiting list that can last for weeks or even a month or more. During winter there are more contractors available and usually the pricing is more competitive as well giving you a better price on the roofing project.
Experience is Needed for Winter Roof Replacement
There is something you'll need to consider when hiring a roofing contractor in Michigan to install your new roof in winter however and that is experience. Of course you'll want to use a properly licensed and insured roofing contractor, that goes without saying. But you'll also want to hire a roofing contractor who has experience with installing roofs in colder weather. One example is that shingles are more rigid and can break more easily during colder weather. They are also harder for nails to penetrate which means adjusting the nail guns is required. Making sure the roofing contractor you choose for your roofing project has experience is a must.
Get an Estimate Today
To get a roof estimate in Novi Michigan today be sure to contact Roof Rite. They are a fully licensed and insured roofing contractor and has years of experience with installing roofing during winter months. Give them a call today at (248) 668-9151 to learn more about their roofing services.