Building value in your home with home improvement projects can help in many ways. Even if you're not planning on selling your home having replacement windows installed in Downriver Michigan can add value to your home. Not only will it help the curb appeal of your home but it can also increase the energy efficiency of the home dramatically. In fact, compared to other home improvement projects with the same price range, it's considered the best home improvement project you can do to add value and get a return on the home improvement project. Plus, with the myriad of choices you'll have when getting replacement windows you can add a bit of style to your home with new windows installed. We'll take a closer look at why getting replacement windows in Downriver Michigan is such a good idea and just how they can help add value to your home. 
🌠🌠🌠🌠🌠 Build on Your Home's Value with Replacement Windows in Downriver Michigan 🏡🏠🏘️🌻🌷
Renovation and home improvement projects are an inevitable part of owning a home today. Things become outdated and faced with regular wear and tear. If you are able to complete these regular upgrades, they add both interior and exterior value to your home. While you get to enjoy the benefits of new features, the value of your home also experiences a positive spike because of the upgrades. We'll explain what they can do for your home's value below:
If you need help picking a starting point on your home renovation, replacement windows are always a good starting point. To upgrade them, it is usually fairly simple. One of the hardest parts is determining if you have enough money to finance the project. A home normally has plenty of windows, and you must decide if you want to replace them all at once, or do groupings at a time.
Another thing to consider is the impact that a renovation will have on your daily routine. You will need to prepare to live alongside a construction team, keeping in mind that the house will probably feel drafty for a little while the project is being completed. Once you determine that a window replacement project is for you, consider the potential of seeing a return on your investment — If you decide to sell or refinance your home in the future, having modernized windows is an instant boost in curb appeal and value.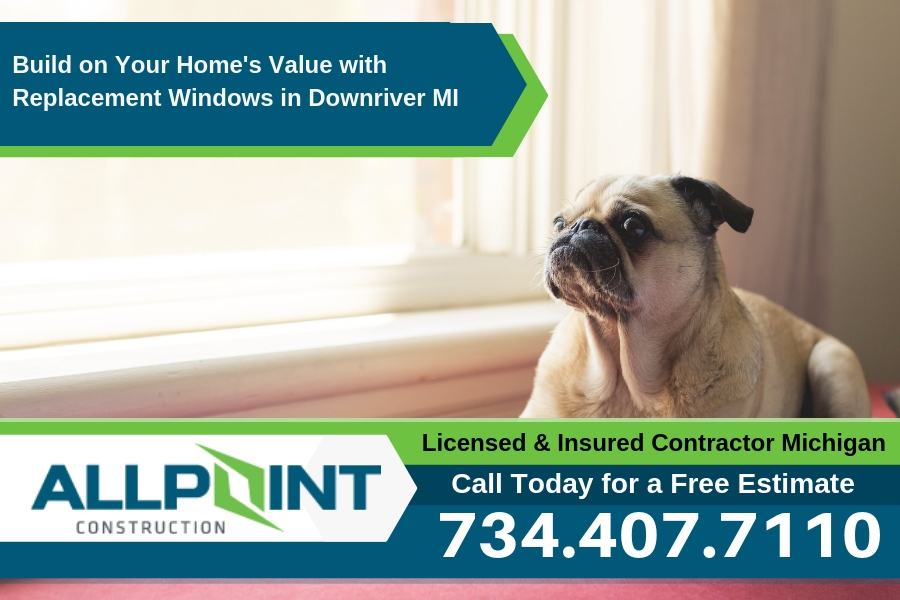 Many wonder if replacing the windows in your Downriver Michigan home really does make that big of an impact — The answer is definitely! Out of other renovation projects, replacement window installation ranks pretty high when thinking about your return on investment:
Windows: 70%-80%
Roof: 75%
Deck: 73%
Sunrooms: 52%
Since it is unlikely to see a 100%+ return investment unless you are completely gutting the house, you can see what a difference replacing your home's windows can make for your home. Keep in mind that the replacement windows you choose will determine just how much of a return you will see. Look for windows that advertise energy efficiency. Having efficiency not only means you will receive a return, but you will also pay less on your energy bills.
Different styles of replacement windows are worth more, as well. If you pick styles that are aesthetically pleasing and compliment the design of your home, above the average standard for a window, your value will increase much more. Choosing a new style is the fun part; you can change the entire look of your home by changing the style of your windows.
Plan your budget for your home improvement project, and start doing your research today! The future of your windows might be more affordable than you realize. There are currently a wide variety of window materials being used other than classic wood. Vinyl and fiberglass are two alternative options that are available. There are also various sizes and shapes that you can choose from. If you need further assistance, contact All Point Construction for a completely free consultation. The team of experts will guide you in the right direction to ensure that your home remains valuable and protected. Call 734-407-7110 to speak with someone today! They also offer quotes to help you find the perfect fit for your home improvement budget.