There are many home improvement projects you can do for your home that can do all sorts of things. The first thing that many people consider when doing any sort of home improvement project is whether it will pay off for them or not. While most home improvement projects will add value to your home I wanted to focus this article more towards a few home improvement projects that can help with energy efficiency of your home. Most of these are projects for home improvement Dearborn MI but can apply to other areas as well especially in Southeast Michigan. 
⚡️⚡️⚡️💡 4 Home Improvement Projects in Dearborn Michigan to Improve Your Home's Energy Efficiency ⚡️⚡️⚡️💡
Want to improve the energy efficiency of your home and make a bit more green? You can start with small things like replacing the incandescent light bulbs in your home or installing energy efficient appliances in the home but there are some home improvement projects in Dearborn Michigan that are not so common. Each of the following home improvement projects can improve your home's energy efficiency and can really help to cut down on energy costs for your home and make it more energy efficient and environmentally friendly.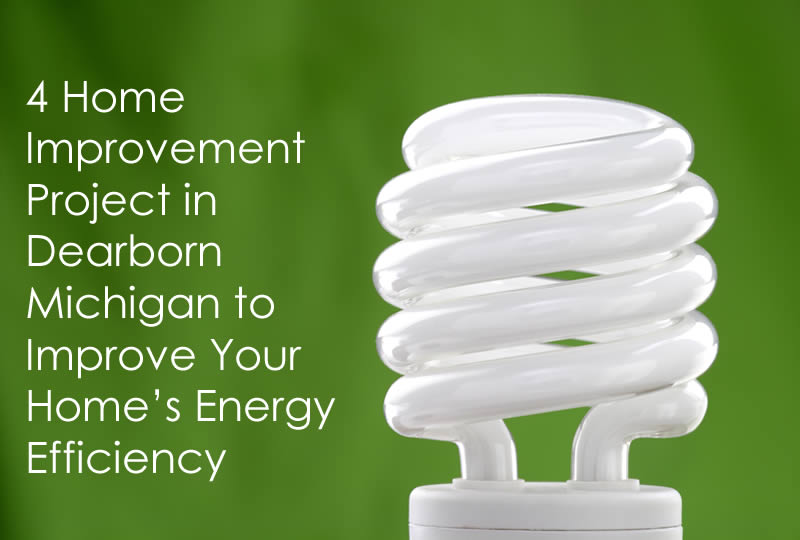 Adding Attic Insulation
One simple home improvement project that can really make a difference in colder weather climates such as in Dearborn Michigan is adding more insulation in your home's attic. Another layer of insulation can have a huge effect on keeping the heat inside your home in winter and keeping the heat out in the summer. Of course, some homes that have already had attic remodeling done can be problematic or more expensive however it still makes our list simply because it's inexpensive and can make a big difference.
Upgrade Your Home's HVAC System
A huge expense when it comes to energy the home uses is connected with the HVAC system. If your home's HVAC system is more than 10 years old it may be time for an upgrade. The HVAC systems of today are more energy efficient. In fact, higher end systems such as variable fan and zoned HVAC systems can really keep the home at comfortable levels and use less energy than traditional systems. Also if your home doesn't have a programmable thermostat for the HVAC system upgrading to a programmable thermostat can help to save lots of energy too. This is especially true if your home is empty most of the day.
Replace Your Home's Windows
Although replacing your home's windows may seem like a large expense; when it comes to making your home more energy efficient they can pay for themselves pretty quick. If the windows in your home are older model windows they can actually be making your home lose energy due to poor insulation properties. Installing new replacement windows in your home that are more energy efficient can have a drastic effect on energy costs. And for windows and doors in your home the new windows or doors should have an energy efficiency rating displayed on them so you'll be able to tell just how energy efficient they are and how much it can help your home be more energy efficient and green. Replacement windows can also have a huge affect on the curb appeal of your home thus increasing it's value that way as well.
Replace Doors in Your Home
Although this home improvement project in Dearborn Michigan isn't as much of a boost in energy efficiency as replacement windows it can certainly have an effect. The exterior doors and storm doors on your home can allow air to leak out which can make heating and cooling the home cost more. Adding a door with good insulation properties can help with energy efficiency. And just like with windows, the doors should have their energy efficiency rating displayed on them to help you make a more informed choice for energy efficiency of your home.
Get a Free Estimate on Any of These Home Improvement Projects in Dearborn Michigan
If you're ready to make your home more energy efficient and start saving on your energy bill each month be sure to contact All Point Construction. All Point Construction offers home improvement services in the Dearborn Michigan area and gives free estimates on these projects. give them a call today at 734-407-7110