Today there are many different siding choices that can be great for your home but there is one that really stands out and seems to be much better than others. the type of siding that many home owners are choosing today is called James Hardie Siding. It's a fiber cement siding that has recently gained loads of popularity especially in more northern, colder states such as Michigan. Getting a siding contractor in Michigan to install James Hardie siding on your home can have many advantages. In this article I'll discuss some of the reasons why you may want to use this siding choice on your home. 
🏠🏠🏡🏘️ Advantages of Updating Your Siding to James Hardie Siding in Michigan 😀😀👍👀
With any home improvement project you'll want to make your home look better. With James Hardie siding installed on your home it can really increase the appearance of the home's exterior. This added beauty can have an impact on the curb appeal of the home. Since James Hardie siding is designed (one style) to have the appearance of real wood it's almost indistinguishable from a real wood siding. However,  since the James Hardie siding is virtually maintenance free you will not have all the maintenance requirements that you'll have with wooden siding of any kind.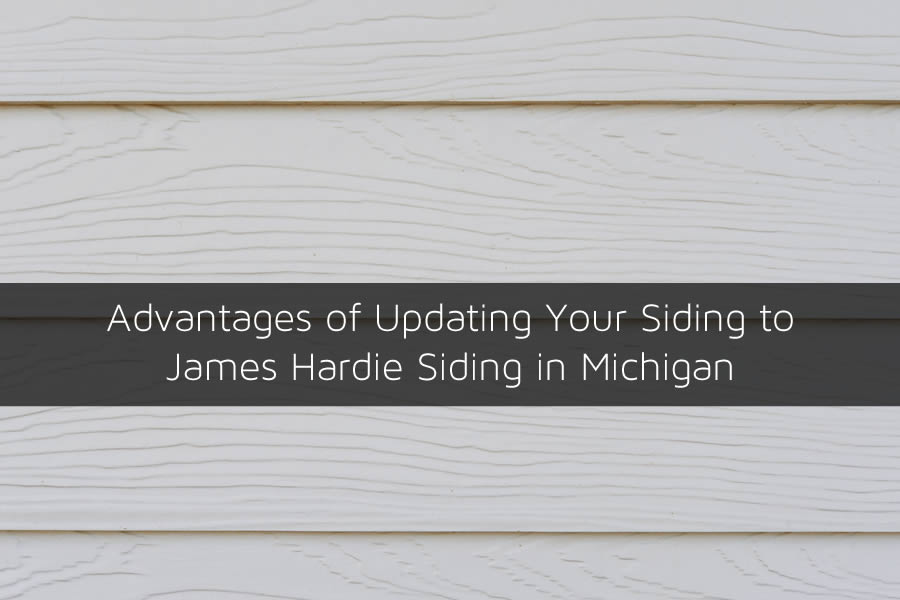 Adds More Value to Your Home
The biggest benefit of adding James Hardie siding to your home is that it can really add lots of value to your home. As I mentioned above it can really boost the curb appeal of your home which has a direct impact on how much your home is worth or appraised at. Not only the curb appeal can give your home a boost in value either. Since James Hardie siding comes with an extended warranty that lasts decades it an be an additional selling point for your home and that warranty is usually transferable to the new owner.
Looks Great on Your Home
No matter what choice of siding you pick for your home, of course you'll need it to do one simple thing well and that is look great. If the siding on your home doesn't look good it can have a negative effect on your home's value. James Hardie siding is designed to mimic real wood with their planks and even has texture on the planks as well. There are several different styles of James Hardie siding to choose from which also include beaded and smooth siding as well if your home is more modern looking. In either case, James Hardie siding likely has the siding that will make your home look great.
Better Protection for Your Home
One of the biggest problems with vinyl siding here in Michigan is that it becomes brittle and easily cracked during the cold winter season. James Hardie siding is made from cement and fibrous materials so that it's extremely strong and durable. The cold weather don't not make it more susceptible to damage and will protect your home much better than vinyl siding can. James Hardie siding also is not susceptible to expansion in warm weather as well. So the siding remains in place and protects your home no matter the weather outside.
Resists Damages from Insects and Weather
Most of the enemies of wooden siding such as insects and rotting aren't present in James Hardie siding. It resists damages from weather because basically it's cement and since it doesn't have any wood present, insects will not affect it at all.
Can Replace Almost Any Other Siding Materials
If your home has siding that is currently install and you don't know if you can even install James Hardie siding on your home be sure to speak with a home improvement contractor in Michigan to determine if it's possible. Sometimes James Hardie siding can be installed directly on top of other siding types with insulation layers to keep it smooth. However, some siding materials may need to be removed in order to give your home the look it deserves.
Get a Free Estimate Today on Your Siding Upgrade
If you're considering a siding upgrade on your home be sure to check out Home Pros Plymouth. They are a fully qualified James Hardie siding installation company in southeastern Michigan and offer free estimates on siding projects. Give Home Pros Plymouth a call today at 734-548-9911