When it comes to protecting your home from the elements such as wind, rain, snow, and storms you'll need to ensure your roof is in perfect working order. Even a small roof leak can occur which can cause all sorts of damages to the inside of your home. Once water starts leaking into the home it's not long before you start seeing problems develop from that leak. Things like damaged ceilings and walls and if the problems persist you can also have mold growth in the home. Preventing this from happening means you'll need to ensure your roof is repaired correctly and to do that you'll need to find the best Ann Arbor roofing company which I'll go over in this article. 
There are lots of roofing companies in the Ann Arbor Michigan area and surrounding areas but not all of them have your best interest at heart. In fact, many of these companies or individuals are more likely to give you lower quality work even when their prices suggest otherwise. That's why it's so important to always choose a roofing company that is fully qualified, licensed, and insured. There are some key things you'll want to look for when hiring an Ann Arbor roofing company which I'll go over in more details below.
Roofing Should Not be a Do It Yourself Project
Sometimes the thought of repairing your home's roof yourself may cross your mind. And although there are many help articles and videos online that explain roofing in much detail there is also loads of misinformation as well. In fact, you're risking your life simply by going onto your roof. A slip and fall from the roof can cause serious injury or even death. Now, you can still inspect the roof from the ground with binoculars but it's best to leave the roofing projects to qualified contractors. Do the roof repairs yourself can actually void the warranty on your home's roof.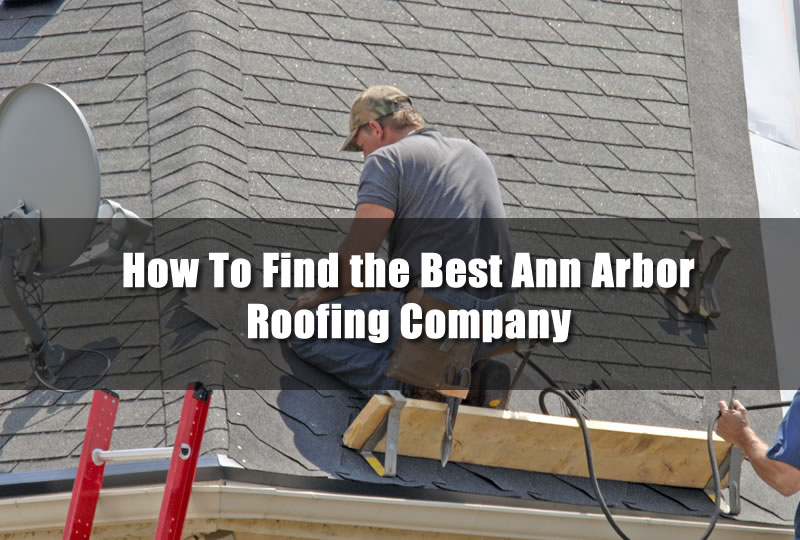 Using a Qualified Roofing Company is a Must
Having a contractor work on your home's roof can cause your roof's warranty to be void if they are not properly qualified. Just like when you do a roofing project yourself you can void the warranty. The reason is that roofing manufacturers have strict guidelines on how the roofing is to be installed or repaired. When those guidelines aren't followed they can void the warranty on the roofing materials. Most roofing manufacturers have qualification programs in place to train and certify roofing contractors for using their materials in a roofing project.
Get a Free Inspection and Estimate on Your Home's Roof
Getting an annual inspection of your home's roof can help to locate problem areas of the roof and make repairs before they actually become leaks. If you suspect there is any sort of problem on your home's roof it's important to get a roofing inspection done. One of the best roofing contractors in Ann Arbor Michigan for doing roof inspections is Ann Arbor Remodeling Contractor. They are a full service home improvement contractor that offer roofing as well.
Get All The Facts Before Making a Decision
Learning more about the roofing that is protecting your home is also important. Sometimes the lingo of Ann Arbor roofing company can seem a bit daunting. One place to learn more about roofing and teach you about some of the roofing methods that are used is Get Roof Pros which covers all sorts of roofing projects in the Ann Arbor and surrounding areas. They also feature content that can help you get better pricing on roofing projects as well by teaching about different roofing methods that are used.

Get a Full Satisfaction Guarantee on your Roofing Project
If you're looking the the best in customer satisfaction when it comes to an Ann Arbor roofing company then you'll need to visit A2Roofing. They are a fully qualified roofing contractor in Ann Arbor Michigan which gives a full satisfaction guarantee on all the roofing projects they complete. They also offer free estimates on roofing projects in the Ann Arbor Michigan area. If you need any sort of roofing work done in Ann Arbor be sure to check into A2Roofing today for more information.