Home remodel projects can usually add value to your home but not all home remodel projects have the same amount of returns on your investment. Some home remodel projects can give your home a massive boost in home value while others may not have the same amount of impact on value but can make the home much more comfortable and made to meet your needs. I've added a list of home improvement projects in Downriver Michigan to give you the most out of your home in terms of adding monetary value and adding value for your needs. 
👍👍 Best Home Remodeling to Add Value to Your Downriver Michigan Home 🏡🔨🔨 😃
With any home remodel project you'll want to use properly certified contractors in order for the work to be performed correctly. Most of the home improvement projects below are not for do it yourselfers and can wreak havoc on your home if done incorrectly. In fact, unless the following home remodel projects in Downriver Michigan are done by properly certified professionals it may actually decrease your home's value. So make sure to always use qualified home improvement contractors in Downriver Michigan when getting any home remodel work done.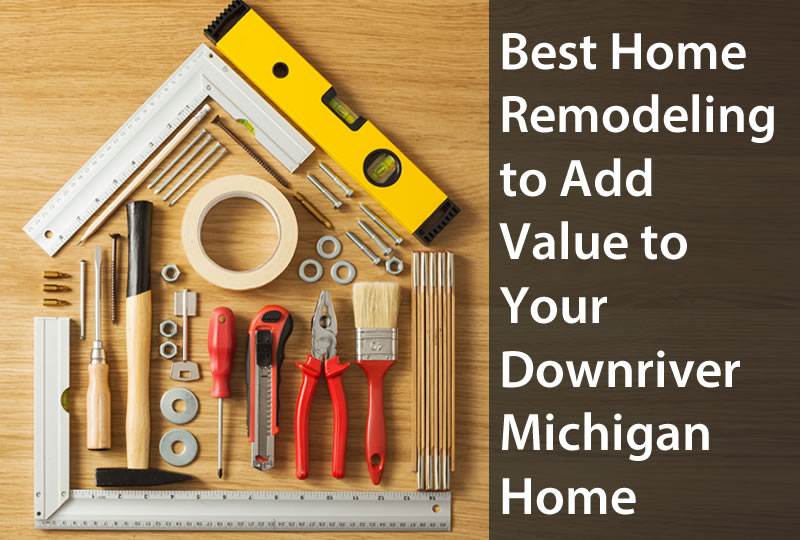 Replacing Your Entry Door
One of the most inexpensive things you can do for your home to raise it's value is to replace the entry door to your home. This is especially true if the home does not have a large window or other focal point on the front of the home. If the entry door is the focal point of the front of the home it will have much more of an impact on curb appeal for the home. Replacing your entry door is relatively inexpensive and can make your home look better in terms of curb appeal.
Adding New Siding to Your Home
If the siding on your home is a bit drab and faded then consider adding new siding to your home. In fact, replacing the siding with upgraded materials can be really beneficial for the home owner. For instance, replacing the vinyl siding on your home with new vinyl siding will increase the value of the home but upgrading to fiber cement siding such as James Hardie siding can make it look better and increase the value even more.
Installing Replacement Windows in Your Home
One way to make sure a home remodel project can help pay for itself is to ask 3 questions:
Will this home remodel project increase the home's curb appeal?
Will this home remodel project make the home more energy efficient?
Will this home remodel project make the home safer?
The answer to all of those questions when it comes to replacing your home's windows is yes. Replacement windows in Downriver Michigan can make your home more energy efficient and they look great so the home's curb appeal will increase. They're also safer because they operate as they should if needing an escape point. Installing replacement windows in your home is one of the best home remodel projects you can do for a good return on your investment.
Kitchen or Bathroom Updates
The kitchen and bathroom are two rooms that everyone in the family uses. There are many different components when it comes to these two rooms and doing simple upgrades can make a huge difference. Consider adding new appliances to your home's kitchen to make a impact or replacing your bathtub with a new jacuzzi. These home remodel projects may be small but can impact the value of your home.
Remodel Your Attic or Basement to Add Extra Space
Have an attic or basement that doesn't really do anything except store extra boxes and such? Then consider remodeling these areas into rooms that you can use. Create an extra bedroom or a theatre room to enjoy family time watching a movie. Adding floor space such as this can impact your home's value in a positive way.
Get an Estimate on Home Remodel Projects from All Point Construction Today
Want to get started on one of these home remodel projects for your home? Be sure to call the best home remodel contractor in Downriver Michigan today to get a free estimate. All Point Construction is a fully licensed and insured home improvement contractor in Downriver Michigan ready to help you create the home of your dreams.