The entry door on your home is usually the focal point of the front of the home. If your home has a large bay or bow window the window may be more of the focal point but for most home the entry door on the home is what everyone is always drawn to when looking at the home. Having a great looking entry door for your home can increase your home's value simply because it can increase the curb appeal of your home. Upgrading your entry door in Downriver Michigan can also give you added benefits along with increased curb appeal such as better energy efficiency for your home and better security. Choosing the best entry door for your home may be difficult however, these tips will help you get the best entry door for your Downriver Michigan home. 
🚪🚪🚪Choosing the Best Entry Door in Downriver Michigan for Your Home 🏘🏠💁‍♂️
There are many reasons why you may want to change your entry door. One of the most common reasons is that the home owner wants to add a more energy efficient door to their home. All windows and doors that are sold today have the energy efficiency rating displayed on them so that consumers will be able to determine just how energy efficient the entry door will be. Higher quality doors typically offer better energy efficiency than lower quality doors. You, as the consumer will be able to determine just how energy efficient the door is however based on the energy efficiency rating. Here are some of the tips included to help you choose the best entry door for your home: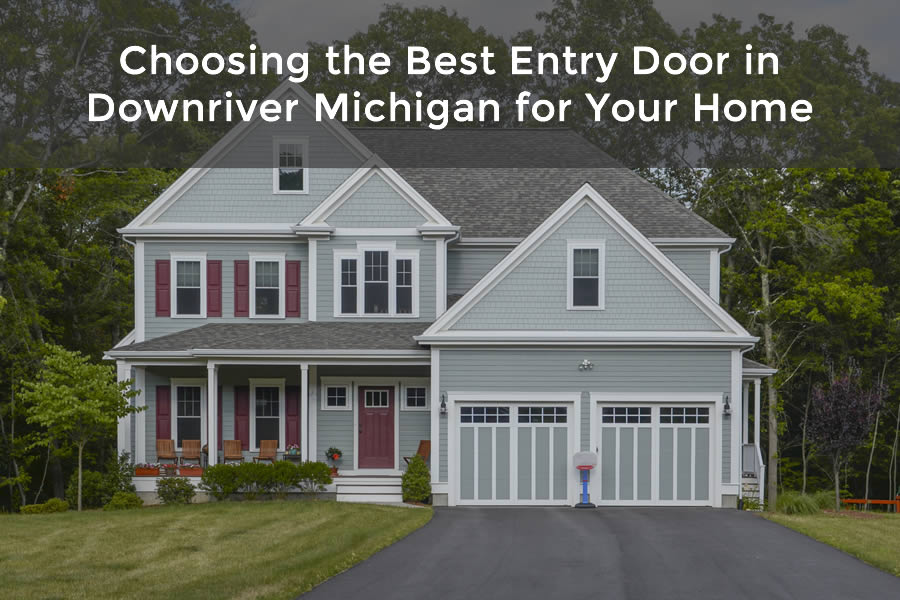 Choose the Best Contractor to Install the Entry Door
There are many energy efficient doors that are offered on the market today. However, the energy efficiency rating that is displayed on the door is based on the door being installed correctly. In order to have the best energy efficiency rating make sure the home improvement contractor you use for the installation of your entry door is fully qualified. One of the best home improvement contractors in Downriver Michigan to install a new entry door is Adkins and Sons Windows and Doors. They are a fully qualified and licensed home improvement contractor located in Downriver Michigan.
Maintenance Requirements for the Door
There are many beautiful doors that are offered today. One problem that many home owners never consider when choosing an entry door for their home is the maintenance requirements for the entry door. Will it need to be painted, stained, or treated in some type of way to keep it's appearance? Fiberglass and steel doors require little maintenance but they are not maintenance free and there will be requirements that you'll need to do to ensure the entry door keeps it's appearance for a long time and continues to look great on the front of your home.
Wooden Doors Require More Maintenance
One type of entry door that usually requires a lot of maintenance is wooden doors. Wooden doors look absolutely amazing and can really make a huge impact on the appearance of the home. Wooden doors however are usually need more maintenance than any other type of door. This may include treating the door or painting the door every year or two. Each type of wood will be different and you'll need to make sure that you have the maintenance schedule for the type of wooden door you choose for your Downriver Michigan home.
Don't Forget About Security of Your Home
The entry door on your home should also be strong enough to keep your home safe. Many of the entry doors offered today have advanced security measures that are developed to keep your home safer. Talk with your door contractor about options that you can choose to add to your entry door to make it safer for you and your family.
Get a Free Estimate on Your Entry Door Installation
Replacing your entry door for your Downriver Michigan home is usually a quick home improvement project that can be done in a day or less. Be sure to contact Adkins and Sons Windows in order to get  a free estimate on installing an entry door on your Downriver Michigan home. Call today at 734-283-7120