Are you considering buying a new home in Downriver Michigan? Getting a home inspection to determine just what shape the home is in is super important. One area often overlooked by home owners is the plumbing on the home. When you need plumbing help the costs can quickly skyrocket. So getting a plumber in Downriver Michigan to inspect the home prior to buying it is crucial to ensure you're getting exactly what you're paying for.
Dealing with Plumbing Problems in Downriver Michigan
When looking to buy a new home in Downriver Michigan, it's easy to get caught up in the excitement and overlook what you could see as minor issues. This could end up really costing you in the long run. One of the easiest things to overlook is potential signs of plumbing issues. By taking the extra time to check a few key things in your walk through of a home, you could end up spotting some major signs that there are issues in the plumbing, allowing you to address them if you love the home, or walk away if you were on the fence. And if there seems to be a problems it's always best to get a qualified plumber in Downriver Michigan to inspect the home and make sure everything is working as it should.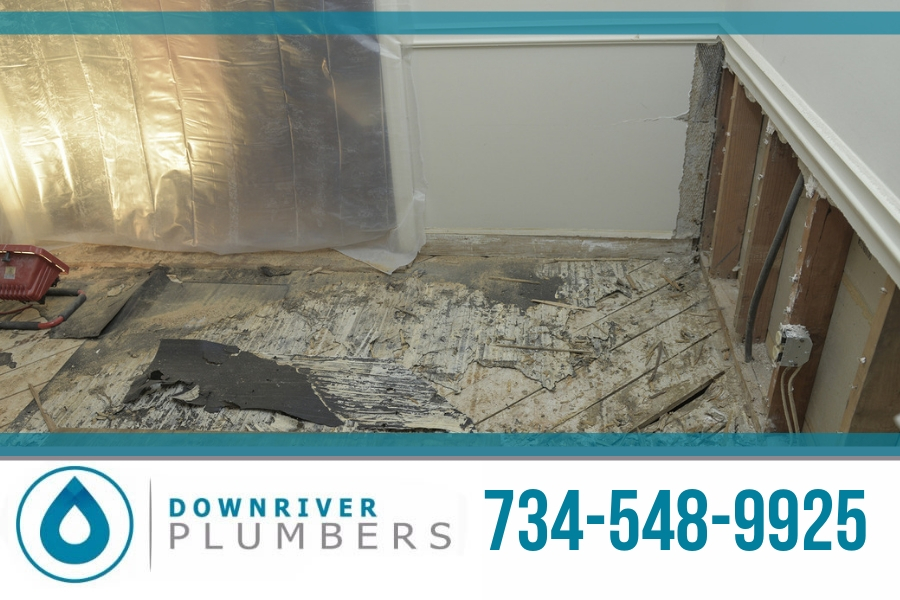 Looking Up
You may not think to do so, but looking carefully at the ceilings of a potential home could greatly benefit you. If there are any stains or brown spots across the ceiling, then that is a tell-tale sign that there are leaks somewhere in the home. This could be due to a leak in the roof or a leak in pipes. Regardless of the cause, this could ensure you catch leak issues early on and have them looked at more closely or taken care of.
Slow Draining
It would be wise to turn on the faucets throughout the house to check for the efficiency of the drains. While some backup could be due to hair and buildup that is easier to fix, a major draining problem could tell you that there is a problem in the overall system or serious clogging problem throughout the home. Be sure to flush the toilets too, as any delay in their flush or filling back up could also denote serious problems in the plumbing.
Water Damage
Take notice of warped walls, floors, and markings that could tell you that there was significant water damage at one time or another. Anything that looks like there could have been standing water for an extended amount of time could indicate a past leak, or could indicate that there is a slow undetected leak somewhere.
Take notice of warped walls, floors, and markings that could tell you that there was significant water damage at one time or another.
Water Heater Age
A water heater in Downriver Michigan can be expensive to replace, so you will want to check with the homeowners or realtor about the age of the water heater. With only about a decade of life, a water heater that is at the end of its life can end up causing a lot of damage and cost you greatly, so knowing the age can give insight into how much longer it would be before you would have to think about replacing it.
Water Pressure
Just as with slow draining, low water pressure could indicate a small problem but could also be a sign of a larger underlying problem that can cost you more. Make sure to check all the possible places where you may be able to detect a problem. If there is overall low water pressure, ask the utility services if there is a widespread issue with this. If not, you could be looking at a major plumbing problem.

Overall, you want to check the smallest details for any potential signs of significant plumbing problems on the home you are looking at. You can also seek the assistance of a professional plumber in Downriver Michigan such as Downriver Plumbers to make a secondary inspection if you are unsure. It always pays to have peace of mind when looking to purchase a new home. Call Downriver Plumbers today at 734-548-9925 for more details on the plumbing inspection services they offer.