The siding on your home not only protects your home from the weather but it also gives it a unique appearance. There are two major types of siding that is used today which are installed on almost half of the homes in the United States is fiber cement siding and vinyl siding. For residents of Downriver Michigan these two types of siding that is the most popular choices is sometimes not so easy to choose. If you're planning on getting new siding from a siding installer in Downriver Michigan be sure to check out the differences which we've outlined in this article. 
🏠🏘️Deciding Between Fiber Cement and Vinyl Siding in Downriver Michigan ⭐️⭐️⭐️⭐️⭐️
No matter which siding you choose for your home it can give your home a new and updated look. One of the best ways to boost curb appeal and overall appearance of a home is with new siding. This includes both vinyl siding and fiber cement siding. Both siding choices can help increase the appearance and curb appeal of your home no matter which you choose. In fact, both siding choices can make your home look great but there are differences in the two that may sway your choice. We'll go over some of the most important points when deciding between these two popular siding choices.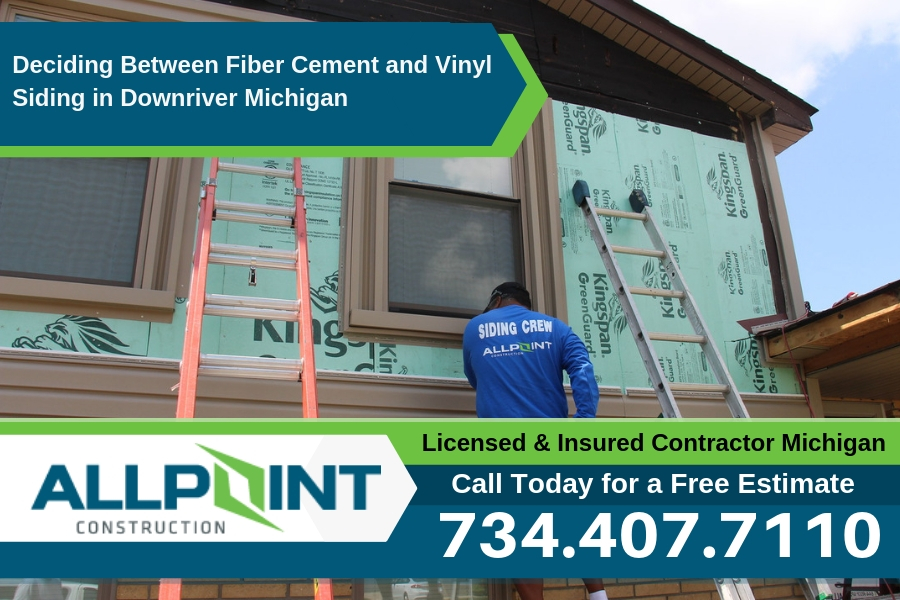 Which Is More Energy Efficient?
While both vinyl siding and fiber cement siding have different levels of energy efficiency depending on the insulation that is installed typically vinyl siding offers a bit better energy efficiency. However, installing siding insulation behind the siding will help the overall energy efficiency of the siding installation. Be sure to look at the energy rating of the siding that you are planning on having installed on your home.
Which Requires More Maintenance?
Both siding choices will give you excellent appearance for many years. However, vinyl siding typically looks better with less maintenance. Vinyl siding will require routine cleaning depending on some environmental factors around your home but will not need painting or caulking. Vinyl siding also has a protective layer will does not allow the vinyl to fade due to UV rays from the sunlight. For fiber cement siding however you will need to regularly maintain the siding. Fiber cement siding is sold initially with paint applied but will require painting later. Most warranties for fiber cement siding is 15 years. Although it may fade before then due to sunlight. Like vinyl siding, it will also need to be cleaned from time to time.
Which Siding is More Durable?
One of the biggest problems in northern states such as Michigan is that during colder months the temperatures can drop dramatically. This temperature drop can affect how brittle siding can become and it espeically affects vinyl siding. Vinyl siding is much thinner than fiber cement siding and let's face it, fiber cement siding is made with cement so it will be more durable. However, being durable doesn't mean it will keep it's appearance, which we went over with the maintenance section above.
Which is More Eco Friendly?
If you're looking for a more green solution for your home, be sure to choose fiber cement. It's made using more sustainable materials and it doesn't require the use of fossil fuels to manufacture.
Which is Better at Safety?
Vinyl siding is damaged easily by heat. In fact, many siding problems occur because of outdoor firepits and grills are placed too close to the siding. Fiber cement siding provides better protection as it does not melt or burn in heat or flames. This can effectively give your home a better fire prevention rating.
Which Siding Costs Less?
There are many factors that can influence the cost of the siding installation on your home. From a materials standpoint however, typically the lower costing option is vinyl siding. The two siding choices will have different qualities that you'll want to discuss with your siding installer. Higher quality materials that are more energy efficient will cost more but will give you better benefits over time.
Comparing the Two Siding Choices
In order to properly compare the two siding choices you'll need to talk with an qualified siding installer in Downriver Michigan. Get a quote on both vinyl siding and fiber cement siding on your home from All Point Construction. They offer free quotes on siding installations in Downriver Michigan. Call today at 734-407-7110