A roof leak is much more serious than most people realize. What can start out as a few drips of water staining your ceiling can cause thousands of dollars in damages to your home in just a short time. Finding a roofing contractor that can repair a roof leak quickly and affordably in the Michigan area is crucial to saving you money on your home expenses. One of the best roofing contractors in Plymouth Michigan is Home Pros Plymouth. They offer roof leak repair services along with other home improvement work. I'll go over some of the problems that can occur if you allow a roof leak to continue leaking and also why you should call Home Pros Plymouth to repair your home's roof. 
Don't Let a Roof Leak Ruin Your Home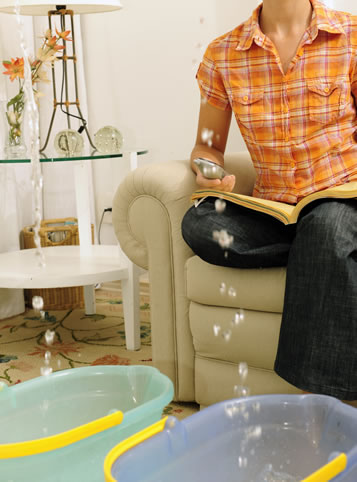 A roof leak will usually start out very small. You may only notice a discoloration on your ceiling during or after a rain storm. This usually occurs during the summer when there isn't any snow on the roof. Typically a problem area will start leaking and allow water to enter the home. If you notice problems even when it's not raining or hasn't been raining in some time then your problem may be related to plumbing issues rather than a roof leak. Getting a roofing contractor to inspect your roof could verify the leak and also offer a roof repair to correct it.
Actually when you see the discoloration on the ceiling and possible water on the ceiling it's likely a bigger problem than you realize. Since the water would need to travel through other layers just to get to your ceiling it could be a bigger problem than you realize. Once water starts leaking into a home it will first start to dampen the roof decking. Over time the roof decking will start to sag and become weak putting structural elements of the roof at risk. Then water will likely drip down into your attic and into the attic flooring if applicable and then into the attic insulation. Water will quickly cause the saturation of the insulation and make it really heavy. Then it will travel into the drywall making up the ceiling.
Once the water reaches the ceiling in the home and you notice the discoloration it has already passed through all these other layers and started damaging them. For small leaks you may never even see the damage until it reaches the ceiling. the insulation will also start to cause the ceiling to sag under the weight of the insulation and could ultimately collapse under the weight. A small leak can do lots of damage and needs to be repaired as quickly as possible.
Call a Roofing Contractor That You Can Trust
As you can see from above a small leak can cause big problems in your home. And when you let a small leak continue it will keep damaging your home. That's why it's important to get roof leak repair done on your home as quickly as possible. The best roofing contractor to do that in the Plymouth Michigan area is Home Pros Plymouth. They are a fully qualified roofing contractor and can be reached by calling 734-548-9911 or by emailing them at info@homeprosplymouth.com
Here are some of the services that Home Pros Plymouth offers:
Roof Repair
New Roof Installation
Shingle Roofing
Flat Roofing
Commercial Roofing
Residential Roofing
Re-Roofing
Tear Off and Replacement Roofing
And Much More
Get a Guarantee on Your Roofing Project
At Home Pros Plymouth however you don't have that worry. They have a fully qualified staff of team members who will make sure your roofing project is done right the first time.
One of the biggest problems that many home owners face when getting roof repair is that they must continue to get a roofing company back to their homes for repair again. At Home Pros Plymouth however you don't have that worry. They have a fully qualified staff of team members who will make sure your roofing project is done right the first time. In fact, Home Pros Plymouth offers a full satisfaction guarantee on all their work even roof leak repairs. For more information on their services and to get a free roof estimate be sure to visit Home Pros Plymouth at http://homeprosplymouth.com