Two rooms in the home that seem to always be prime candidates for a home remodel project is the kitchen and the bathroom. Maybe it's because these rooms are used so often by almost all of the family members and guests that come to your home. Other than the living room in the home it's likely one of the top rooms that you'll spend time in especially if you enjoy cooking. Getting the kitchen in great shape by looking great and also making it more functional can be great. This post can help you get the best kitchen possible in your remodel project in Southgate Michigan. I'll go over tips that can not only help you get the ultimate kitchen remodel in Southgate Michigan but also how to ensure the project is done on time and on budget. 
⭐️⭐️😀 Get the Ultimate Kitchen Remodel in Southgate Michigan with These Tips 😀⭐️⭐️
Remodeling your kitchen is a big step. Unlike other rooms in the home the kitchen has all sorts of components that will need to be addressed. Many times home owners will consider a kitchen remodel themselves which is possible but it's also not advised. This is especially true if you are planning to change many things in the kitchen. Painting the walls or installing a new refrigerator may be okay, but when it comes to the overall kitchen remodel project it's always best to leave it to a properly licensed contractor. And for some work you'll need at least a contractors approval before the inspection will pass after completion.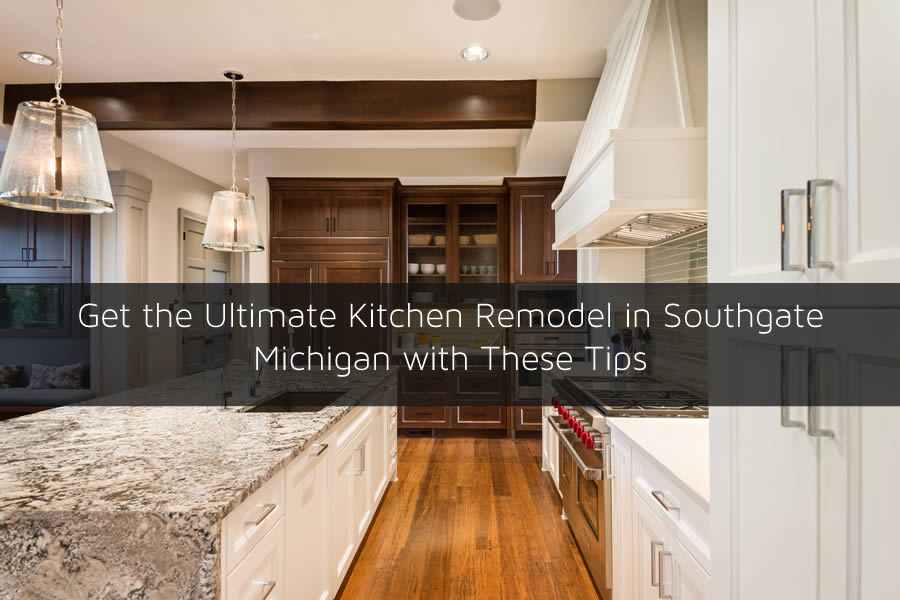 Always Plan Beforehand, Then Execute
Before you make a call to start the kitchen remodel be sure to have everything planned out. Remodeling your home's kitchen isn't a spur of the minute project and making sure all your plans, budget, and items are in order is a must. Being able to plan and budget the entire project will help you tremendously later. You can also plan when the project will be done. Birthdays and holiday dinners can be disrupted if you're having your kitchen remodeled at the same time.
Consider Leaving the Footprint of the Kitchen
Modern homes have a specific layout in the kitchen in order to maximize efficiency. Components in the kitchen such as the kitchen sink, stove, and refrigerator are placed in close proximity. It's called the footprint of the kitchen and it's something that you'll need to consider in a kitchen remodel. Disrupting the footprint and placing components in a kitchen too far away from each other can be problematic later. Carefully consider any footprint changes to the kitchen. Leaving the footprint as it is can also cut down on the kitchen remodel costs.
Take Care When Selecting Appliances for Your Kitchen
Today's appliances can be truly amazing. They have sophisticated components and connect wirelessly to your internet. While those are all great features, be sure to find appliances that better match what you'll be doing with them. If you plan on keeping your grocery list on your refrigerator's on screen computer then this may be the appliance for you, if not, you may want to skip these expensive options.
Quality Matters, All Over the Kitchen
When it comes to components in the kitchen they are pretty much like everything else. You get what you pay for. Fixtures in the kitchen that are made from plastic are usually not dependable over time. Making sure you get components in your kitchen that are dependable can make sure your kitchen remodel looks and functions great years from now.
Don't Skimp on Storage Space
It seems like one thing that we always run out of is storage space in the kitchen. Sometimes you don't need to add space to the kitchen just make better use of the space we have. Installing cabinets that make the best use of space can be very advantageous for storage in the home.
Get a Free Estimate on Your Kitchen Remodel Project in Southgate Michigan
If you're considering a kitchen remodel project in Southgate Michigan be sure to call All Point Construction. They are a fully licensed and insured home improvement contractor and they offer free estimates on kitchen remodel projects. Get started on your kitchen remodel project today by calling All Point Construction at 734-407-7110