Winter can be a brutal season with ice and snow around our area. And while we deal with the winter with furnaces and apparel designed to keep us warm, parts of our homes are exposed to the cold throughout the winter. One component of your home where winter can be especially problematic is the roof on your home. Cold temperatures, ice, and snow can cause a large number of problems on your home's roof. There are some steps you can take to prevent roof damage in Downriver Michigan on your home which we'll cover in this article. 
How to Prevent Roof Damage in Downriver Michigan During the Winter
There's no doubt that the winter in Downriver Michigan is a stressful season for homeowners. From increased energy bills to shoveling mounds of snow, you really never know what to expect. Given the uncertain nature of this season, it's crucial to make sure your roof is properly cared for to prevent devastating damage. A single loose or cracked shingle, for example, could lead to thousands of dollars in damage. The cost of prevention is much less than what you would pay to repair a damaged roof or at worst, replace your roof in Downriver Michigan. Here are some things you can do in order to prevent damage to your roof during the colder winter months in Downriver Michigan: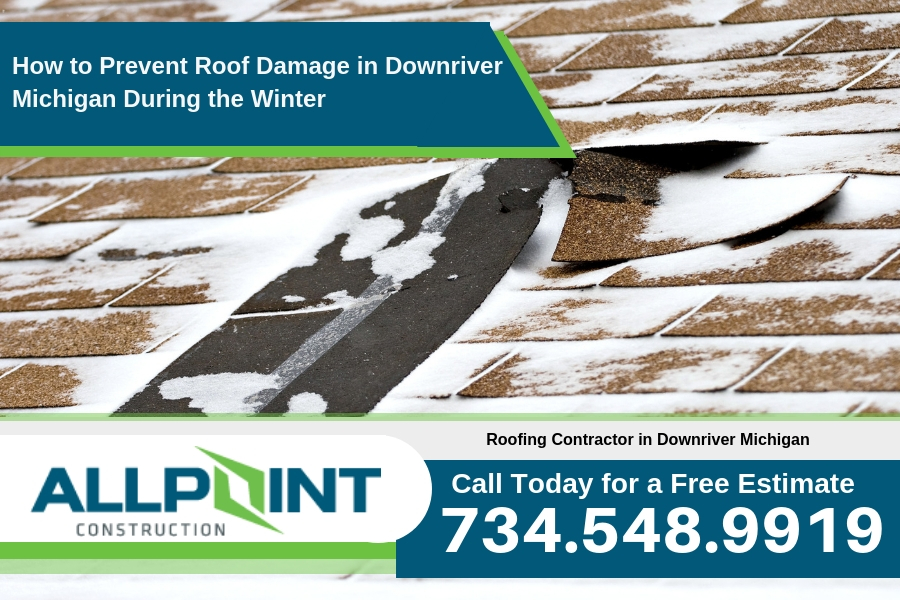 Trim Your Trees
If you have branches hanging over your roof, make sure they are trimmed before the snow arrives. The branches might not hold up during intense blizzards, especially when ice builds up and doesn't melt for weeks on end. Just like a strong wind storm, branches can fall on your roof and cause extensive damage, even causing harm to your home's interior. You shouldn't try to trim the trees while they're covered with ice, either. Make sure to clean them up before winter hits. The added weight of ice and snow may even break branches that seem otherwise okay. For taller trees you may need to hire a tree trimming service to help.
Clean Debris Out of the Gutter
No matter where you leave, it's also crucial to keep your gutters cleaned. When snow melt runs down your roof, any debris in the gutters will cause it to clog up. As you can imagine, this can be detrimental to your roof. If the water doesn't drain, it will refreeze in the gutter and lead to ice dams. The water will eventually back up to the point where it starts to leak inside the home. Hiring a professional contractor to clean out your gutters will save you from potential disasters.
Inspect Your Roof Each Fall
Taking prevention measures to ensure your roof's structural integrity is the best way to go. And as always, never attempt to get on your roof. It's extremely dangerous and should only be done by a trained professional. This is the best time to catch crack or missing shingles, mildew, and other forms of damage that could escalate during the winter. Even if you don't live somewhere with a harsh winter, it's still a good practice to have your roof regularly inspected.
Safely Remove Heavy Amounts of Snow
If you live somewhere that gets heavy amount of snow, it's not unheard to end up with 6in. of snow sitting on your roof in a typical December day. As the snow starts to build up, you roof is at risk of collapsing. To prevent this, you may need to hire a contractor to physically remove the snow from your roof. Never attempt to do this yourself. Landscapers and other contractors have special tools and expertise to safely remove snow from your roof. Attempting to remove the snow yourself may cause damage to the roofing surface and you may fall from the roof. It is dangerous and should only be done by properly qualified roofing professionals with the proper safety equipment.
Anytime you need work done on your roof, whether it be a repair or a routine inspection, always hire a professional roofing contractor in Downriver Michigan. No homeowner should ever attempt to walk on their roof. For a free quote, call Downriver Roofers at 734-548-9919. Don't let the snow win this season, keep your roof in its best shape.