Home improvement projects can make your home more functional and beautiful. Sometimes just the smallest changes can make a huge difference. But, making a small change by yourself may not be such a good idea. Today there are many television shows and tutorial videos online that teach you how to do home improvement projects by yourself but that may not always be the best idea. For home owners in Downriver Michigan there are some problems that you'll need to be aware of before starting a home improvement project or a do-it-yourself project on your home. 
🛠️🔨🔩🗜️ Problems With DIY Home Improvement Projects in Downriver Michigan 🏡🏠
Let's face it, after some time the interior of our homes gets a bit boring. And if you're like me changing things around a bit and adding some paint here and there can make a huge difference. While a home improvement project in Downriver Michigan that is small like this may not have the problems we mentioned here it's certainly worth mentioning. Smaller home improvement projects which only have surface remodeling such as any of the following are usually immune to the problems we'll mention:
Painting walls, cielings, cabinets, etc…
Adding shelves
Adding molding, wallpaper, etc…
As I mentioned above the main consideration for a home improvement project that you can do yourself is how deep you'll need to go into walls or rooms. While painting or adding wallpaper is only surface project if you were to add electrical boxes the entire project would take on a lot more requirements and likely wouldn't be a do it yourself project you can complete.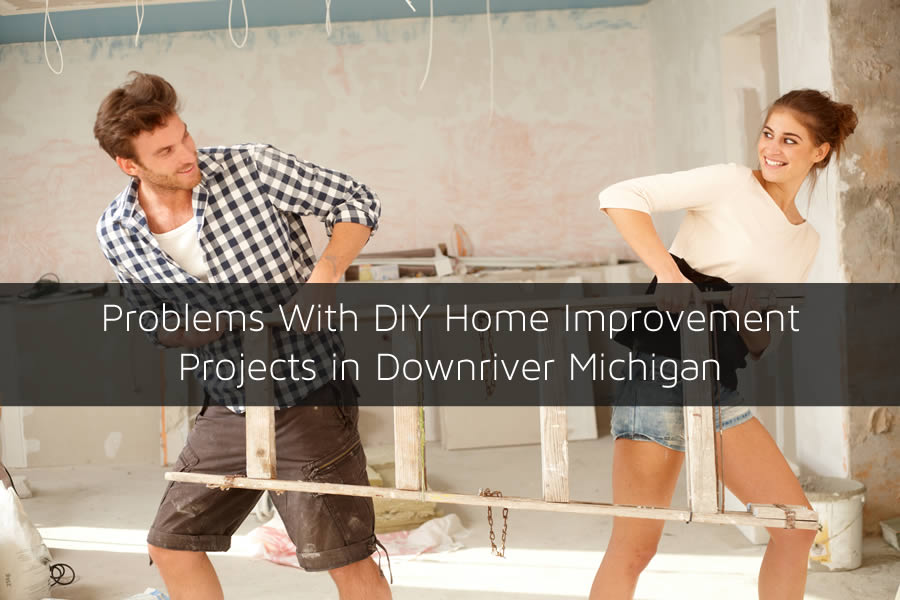 Scope of the Home Improvement Project
The main concern of a home improvement project you'll need to consider is the scope of the project. Will the project include electrical requirements such as moving wiring, adding wiring or electrical components. Lighting replacement is also included. Another area you'll need to consider is plumbing. Kitchen and bathroom remodeling are two of the most common rooms that are remodeled, they can also be the most expensive. When it comes to plumbing on your home it's always best to leave this to the experts. Adding walls, additions, and changing a room type can also have a huge scope. For instance, you may consider remodeling your basement. While it may seem like a straightforward project there are building codes in place to actually protect you. You'll need to have qualified contractor install an egress window in the basement before a final inspection can be passed.
Getting Permits and Inspections for the Project
Most home improvement projects will also need to have permits from the building and planning commission. This allows the governing body of the area to keep records of things done to the home. And it actually protects the home owner in the end. Imagine if you bought a home where all the electrical work was done by someone who wasn't qualified and only watched a few YouTube videos? There are also inspections that will need to be done at critical points during the home improvement project usually depending on the scope of the project. Having a home improvement contractor do most of this for you can reduce a lot of stress. It can also help you schedule the project better because they will know when and where everything should be during these inspections.
Licensed Contractor Requirements
Depending on the scope of the project you may need to have a licensed contractor sign off on the work that you have done. Basically, you're asking the contractor to inspect your work and then say that it is okay and stake their reputation on it. As you can imagine this can become quite pricey and you may even have trouble finding a contractor to actually do this for you. Not all projects can be done yourself and will require licensed professionals to sign off. These can include electrical contractors and plumbing professionals.
Problems That Can Show Up Later
As a do it yourselfer one of the biggest problems you may run into is after everything is completed. A small water leak or a drain that doesn't work right may not show up until after everything is installed. These problems are usually caught pretty quickly by licensed contractors who have testing equipment on hand and the experience to notice problems quickly.
Get a Free Estimate on a Home Improvement Project in Downriver Michigan
Before you take on a do it yourself project on your home be sure to talk with a licensed home improvement contractor to help. Call All Point Construction for home improvement Downriver Michigan today at 734-407-7110 for a free estimate on your home improvement project in Downriver Michigan.