There are many choices on the market today when it comes to roofing materials for your home. One of the most popular types of roofing materials used today is asphalt shingle roofing but there are also many different styles and designs that you can choose from. One of those options that many people go with is the 3 tab shingles. Having a roof contractor in Downriver Michigan install 3 tab shingles on your home can certainly protect it but is it a good option for you? We'll take a closer look at 3 tab shingles and discuss some of the advantages and disadvantages of this popular roofing material used in Downriver Michigan.
🏡🏠▪️⏹️ Pros and Cons of 3 Tab Shingles in Downriver Michigan ⭐️⭐️⭐️⭐️⭐️
Most roofing materials will last a  long time. In fact, having a roof that lasts more than 30 years is quite common. But when the time comes to replace your roof choosing from the myriad of roofing materials can be daunting. And although asphalt shingles are really common they certainly aren't the only choice. Metal roofing is another option that you can look at when getting a new roof in Downriver Michigan. With that being said, here are some pros and cons of 3 tab shingles in Downriver Michigan: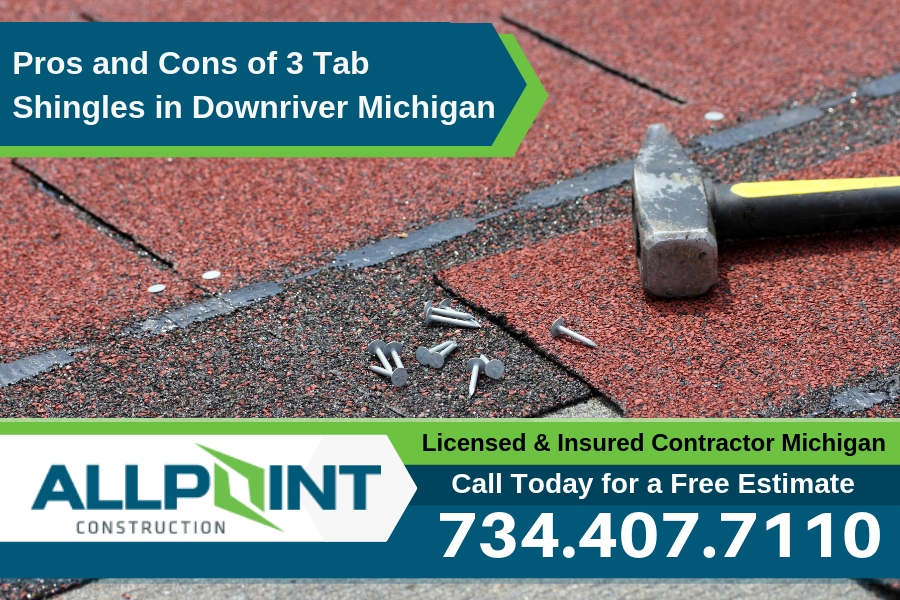 Advantages of 3 Tab Shingles
3 Tab Shingles Weigh Less
One big factor that many people never consider when getting a new roof installed is the weight of the roofing on the home. A new roof can actually weigh a lot and if your home is being re-roofed weight can certainly become a determining factor. 3 Tab shingles are constructed from just a single layer of fiberglass and asphalt mats. Using less materials in the shingles makes them weigh less than architectural shingles.
3 Tab Shingles are Cheaper
While the more popular architectural shingles may look better, they also come at a higher price. One of the most economical roofing shingles that you can install on your home is 3 tab shingles. In fact, the price difference between 3 tab shingles and architectural shingles is huge. When it comes to getting  a new roof the method of installation is also key to price. A tear off roof project using architectural shingles is usually thousands more than a re-roofing project that uses 3 tab shingles. This makes 3 tab shingles an easy choice for some home owners who are looking for a economical way to get a new roof.
Homes Can Be RE-Roofed with 3 Tab Shingles
Installing a new roof in Downriver Michigan over the old roof is called re-roofing and it's a great way to save money on the roof installation. The biggest problem when it comes to this type of roofing is the weight of the shingles. Essentially you're adding the weight of a completely new roof on the home structurally. This makes using 3 tab shingles better because they weigh much less giving the overall weight of the roof less. It should be noted that only 2 layers of shingles can be installed on homes in the state of Michigan.
Many STyles and Designs Available in 3 tab Shingles
Giving your home a distinct look is also achieved by using 3 tab shingles. There are many designs and colors you can choose from. There are also fading that is added to some products to make them appear more pronounced.
Disadvantages of 3 Tab Shingles
Lesser Warranties on 3 Tab Shingles
Most 3 tab shingles will have a warranty attached but it's not that long. 15 years is usually the life of the shingles and most warranties reflect this. Higher quality roofing materials will have longer warranties from 25 or more years.
3 Tab Shingles are Flat
Want your roof to look more like shakes and not flat? Then 3 tab shingles may not be for you. Although 3 tab shingles will look like shakes they aren't as defined as architectural shingles. Due to their flat appearance it's difficult to make them look more defined.
Popularity is Decreasing in 3 Tab Shingles
Over the past decade or so the popularity of 3 tab shingles has decreased. This is mainly due to the pricing of other roofing materials such as architectural shingles that have better warranties.
Talk with a Roofing Contractor
Be sure to speak with a roofing contractor about your roof to ensure the best roofing for your home. All Point Construction is a fully licensed and insured contractor in Downriver Michigan and offers free estimates on roofing projects. Call today at 734-407-7110 to speak with a roofing expert about your home's roof.