Getting a new bathroom in your home may seem like a great idea but it can be costly. In fact, many home improvement projects that involve a bathroom remodel in Detroit Michigan can be thousands of dollars even for small bathrooms. There are some ways that you can save money on your home bathroom remodel however which I'll go over in this article. You'll simply need to go over some of these items with your Michigan home improvement contractor to get a better idea of just how much the entire bathroom remodel will cost and also any additional items you may need for the bathroom remodel in Detroit Michigan. 
Tips to Save on a Bathroom Remodel in Detroit Michigan
There are typically two rooms in the home that are usually more expensive to remodel. Those two rooms are the kitchen remodel project and the bathroom remodel project. The reasons why is because there are so many different components that are present in these rooms that may not be present in others. Here are some of the additional items that may be included in the bathroom or kitchen:
Specialty electrical outlets and components including high voltage wires
Plumbing pipes including drain pipes and supply lines
Ventilation fans, piping, and connections
Waterproofing and specialty materials for walls and floors
Other plumbing components
As you can see there are many additional things that go into a bathroom remodel and kitchen remodel that are not present in other rooms. These additional components are usually what makes the bathroom remodel so much more expensive than other rooms and also why more specialized technicians are needed when considering a bathroom remodel in Detroit Michigan. I'll go over some of the tips you can use to save money on your home's bathroom remodel project in Michigan.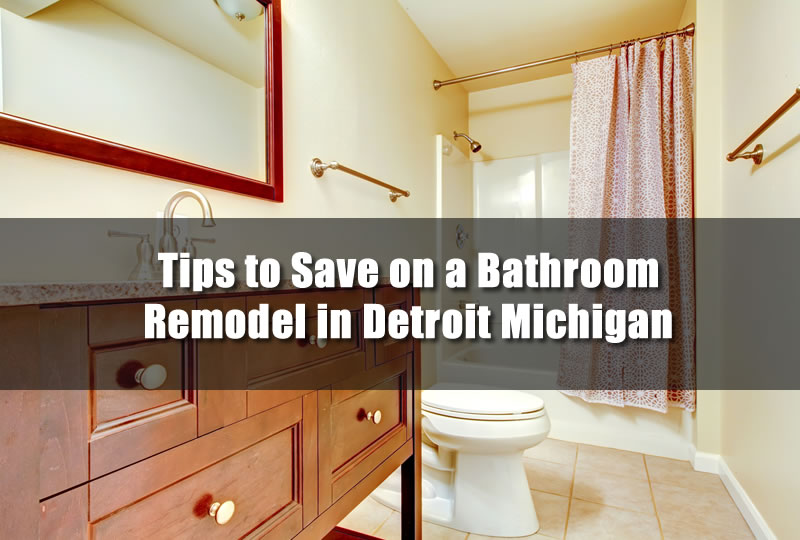 Don't Remove the Shower or Move It
One of the more expensive items is restructuring pipes and drains in the bathroom remodel. When you want to move items or add new components such as a shower to the bathroom the cost can increase significantly. This is especially true if your home was built on a concrete slab without a crawl space below it. In order to save money on your bathroom remodel it's important that you only move components that you really want or can afford to do so. Needlessly moving items like a shower or toilet can raise the cost of the bathroom remodel in Detroit Michigan.
Use High Quality Flooring Products Instead of Stone
A great looking floor in your home's bathroom is a must when considering a bathroom remodel. However, it's not just stone floors that look great. In fact, one of the more popular types of flooring that has recently gained loads of popularity in Michigan is luxury vinyl tile flooring. It can be installed easily and has many advantages to other types of flooring. It's also made to mimic almost any type of flooring that is used today including tile, stone, hardwood, and more. Before you spend lots of money on stone or tile flooring be sure to check out luxury vinyl tile flooring for your bathroom remodel in Detroit Michigan.

Consider Painting Walls Instead of Tile
Another way to save money on the bathroom remodel project is to paint walls of the bathroom rather than installing wall tiles. Even when only half of the wall has tiles installed it can be less expensive for the bathroom remodel. You may also want to talk with your home improvement contractor in Michigan if you want to do some of the work yourself such as painting the walls and ceilings. Some contractors will allow this and give a discount on the project but sometimes the home owners can quite frankly, get in the way. Talk with your contractor to determine if there is anything that you can do yourself.
Get an Estimate on the Work Needed and Use a Qualified Home Improvement Contractor
Most bathroom remodel contractor in Michigan will offer free estimates on home improvement and home remodel projects. Get an estimate on the project to determine just how much it will cost and always plan for problems with a backup funding source if needed for your bathroom remodel project.