Keeping the roof on your home properly maintained and dealing with problems and roof leaks as they arise can ensure it lasts for a long time. Unfortunately, sooner or later you'll need to replace your roof in Downriver Michigan. When that time comes making sure you understand the costs involved and ways to save money on your roofing while still getting a great roof installed on your home is important. Here are some tips to help make sure you get a great roof installed on your home at a great price as well. 
⭐️⭐️⭐️⭐️⭐️ Tips to Help Prepare Your Budget for a Roof Replacement in Downriver Michigan 😀 🏡🏚️
Most homes in Downriver Michigan have a type of roofing known as asphalt shingles installed. There are many variations of asphalt shingles which also includes different qualities of the products as well which can really make an impact on how long the roofing will last. Some of the most common roofing materials will last from 15 to 35 years. So if your roof is over 15 years old then there is likely concern that you may soon need to replace the roof on your Downriver Michigan home. Make sure you follow the tips listed below to get the best roofing for your home.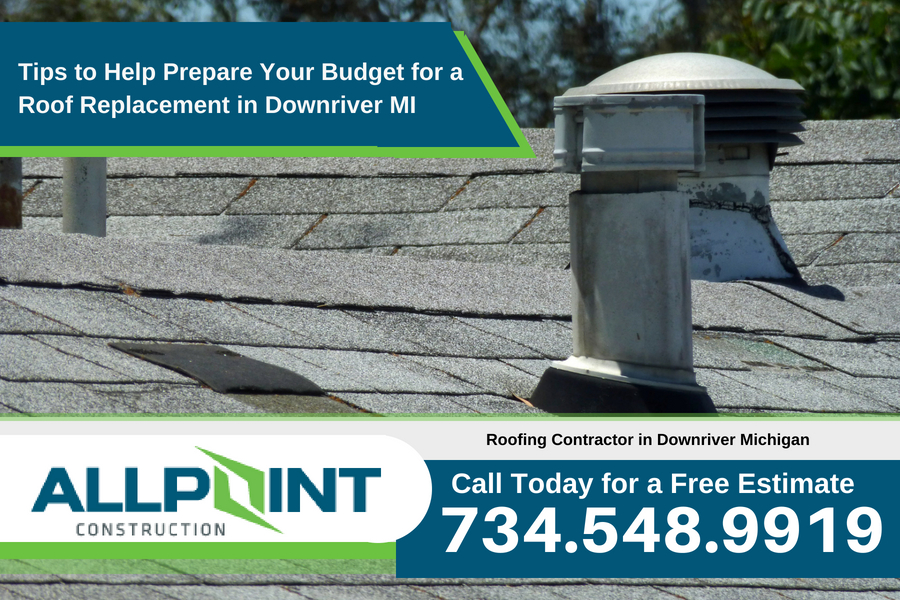 Understand the Costs Involved
Since roofing on your home can last for such a long time it leaves many home owners without any knowledge of just what getting a roof installed entails. The costs involved in the process and more. Here are some of the major costs that are involved that you should be aware of before committing to a roofing project in Downriver Michigan:
Roofing materials used (asphalt shingles, metal roofing, etc…)
Labor for removing the old roof and installing the new roof
Clean up and Debris removal costs. (removing debris from the old roof)
Roofing components installed (ventilation, chimney caps, gutters, etc…)
As you can see there are things that you'll need to pay for when getting a new roof installed in Downriver Michigan which are typically never considered. Having to install new ventilation in your home when you get a new roof is an added expense and you'll need to adjust your budget as needed so that you can pay for the roofing project.
Material Choices Make a Difference
Even today there are many different roofing material manufacturers which have different prices on their products. Along with that, each will have a different pricing structure for the different qualities of shingles as well. The choices that are available to you for choosing a roofing material are vast but the prices for those materials are also vast. Roofing materials that have lesser warranties attached are usually less expensive than higher length warranties. Make sure to choose a roofing material that fits into your budget and also has a longer warranty for best results.
Get an Estimate on the Roofing Project
Some roofing contractors in Downriver Michigan will give free estimates on roofing projects. These estimates will have details about the materials used and the costs involved. Sometimes asking for several estimates on the roofing project which includes money saving options can really help you stay within your budget. Talk with the roofing contractor and ask them ways to save money on the roofing project and get them to include that in the roofing estimate for better comparison to others.
Get Financing for Your Project
Another option that many people don't consider is getting a new roof installed on your home and getting it financed. Many roofing contractors today offer financing options for home owners to get a new roof installed. Some will even have financing available where you don't pay any money down. Be sure to ask about financing when getting a roof estimate on your home.
Start Today with a Free Estimate
To get a better idea of just what a new roof in Downriver Michigan will cost you'll need to start with a roofing estimate. One of the best roofing contractors in Downriver Michigan is Downriver Roofers. They are fully qualified and licensed and has financing options as well. Be sure to give them a call today to get started on your roofing project in Downriver Michigan by calling them at 734-548-9919