For home owners in Downriver Michigan keeping the roof on your home in good condition is a must. However, many times home owners simply don't know when the roof on their home is failing. Most people think that if the roof is not leaking then it's in good shape while this really isn't the case. The older a roof gets the more problems it can have and the more potential it has to leak. If you notice any of the following signs on your home's roof be sure to call a roofer in Downriver Michigan to come out and inspect, repair, or replace your roof. 
🌟🌟🌟🌟🌟Top Signs Your Roof is Failing in Downriver Michigan 🏡🏠🙋‍♀️🙋‍♂️
Roof replacement or roof repair is among the most vital home improvements project you are going to undertake. Your roof keeps you both dry and safe. However, you do not need to replace it unless it is absolutely necessary. But how can you know that your roof actually is in a state of disrepair? Normally, when people think about roofing issues on their Downriver Michigan homes, what first comes into their mind is, of course, leaks. However, often a roof may reach the end of its life without undergoing roof failure. The following are top signs your roof is failing and you need to repair or replace your roof.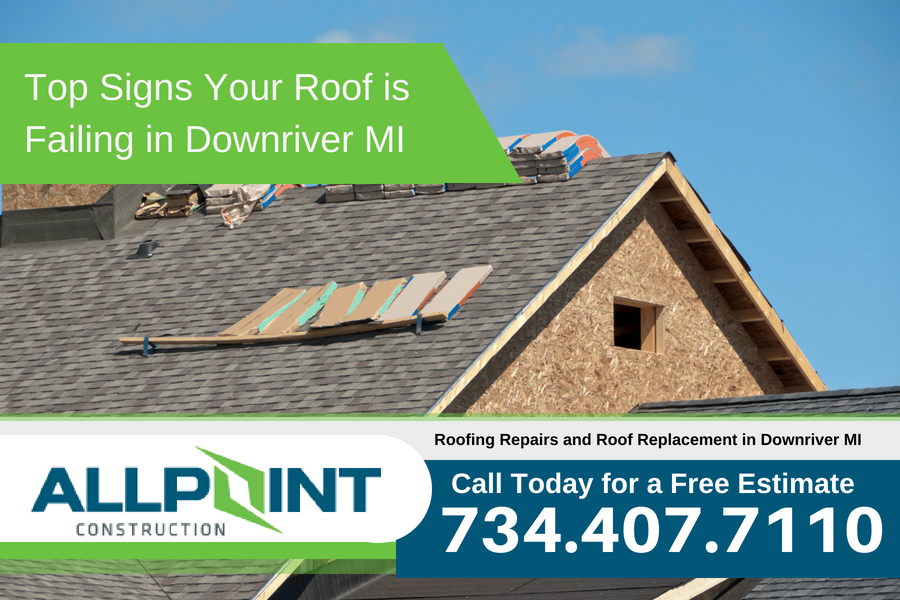 The Age of the Roof
How old actually is your current asphalt shingle roof? Majority of roofing professionals in Downriver MI are in agreement that a normal roof is going to last between 15 and 25 years. But this depends also on if the old one was removed and the amount of current layers of shingles, and if it's ventilated properly. When you had the roof installed over several layers or another layer and its older than 20 years, there are chances that you require a new roof.
Shingles Buckling and Curling
Shingles which are buckling or curled may be another indication that you require a new roof. In this regard, you should check the side of the house which receive direct sunlight and when you happen to notice the shingles are losing granules and buckling, this could imply they are past their life expectancy. Also there might be a possibility your roof is defective. In this case, the best course of action is contacting certified roofing contractor in Downriver Michigan to do the repairs.
Roof Valleys
When your roof shingles are missing or falling apart, this is a definite indicator that you require a new roof in Downriver Michigan. Note that valleys are among the most significant areas of the roof. Rain and snow flow via valleys and then into gutters. But when the valley is somehow compromised, you could be prone to roof leaks.
Missing Shingles
Another sign your roof may be failing is missing shingles, or rather part of shingles. You should check to find out if all your shingle "tabs" are intact.
Chimney Flashing
It is another critical area that you should be worried about. When the flashing consists of tar or roofing cement, it might require to be replaced with water-tight, long-term fitting that could be some metal flashing system.
Shingle Granules in Gutters
Look into your gutters to find out if they are packed with shingle granules. Note that roofs appear to lose more granules when they are nearing the end of their life cycle. Furthermore, inconsistent or rather darker color on some parts of your roof is another indication that the granules have worn away.
Daylight via Roof Boards
When you happen to notice some spongy feel or trampoline bouncing when walking on the roof, this may indicate underlying decking is weakened by moisture. You should check the attic to find out if there's any daylight coming through your roof boards. Check also the moisture in the insulation.
The above are signs that your roof may be falling apart and it needs repair or replacement. When you see them, it's the time to call a professional and certified roofing contractor to assist you. DIY repair may end up exacerbating your problem.

Get a Free Quote on Roof Replacement
Not sure what shape your roof is in? Be sure to get a roof inspection done on your home to determine if it needs roof replacement or roof repair. Call All Point Construction today at 734.407.7110 for a free consultation on your roofing project in Downriver Michigan.