Getting a warranty on your home's roof is a great way to have some peace of mind. Roofing warranties today can last many decades and some systems are all-inclusive. Getting a new roof in Downriver Michigan you may hear about these warranties and how they can protect your home. Understanding more about warranties can help you make a better buying decision when it comes to getting a new roof installed. In this article we'll dig deeper into roof warranties and what they could mean to you. 
Understanding the Warranty on Your Roof in Downriver Michigan
While it may not be something that you would naturally consider, roof warranties are just as important as the actual work being done. Whether it is a simple shingle replacement or a complete roof replacement, when you spend money on your home it is important you protect your investment and guarantee the work will be done correctly. So no matter how big or small the job is, take the time to look into warranties and educate yourself to protect yourself.
One of the biggest problems that home owners face isn't the roof warranty duration but it's actually how the roof is installed or repaired. Allowing a roofing company that isn't qualified for the roofing material being used can lead to the warranty being void. So if you have a new roof installed on your Downriver Michigan home and you don't use a qualified and licensed contractor the warranty on your entire roof could be void and you may end up replacing in just a few short years. Even for roof repairs you'll need to ensure you use a properly qualified and licensed roof contractor in Downriver Michigan.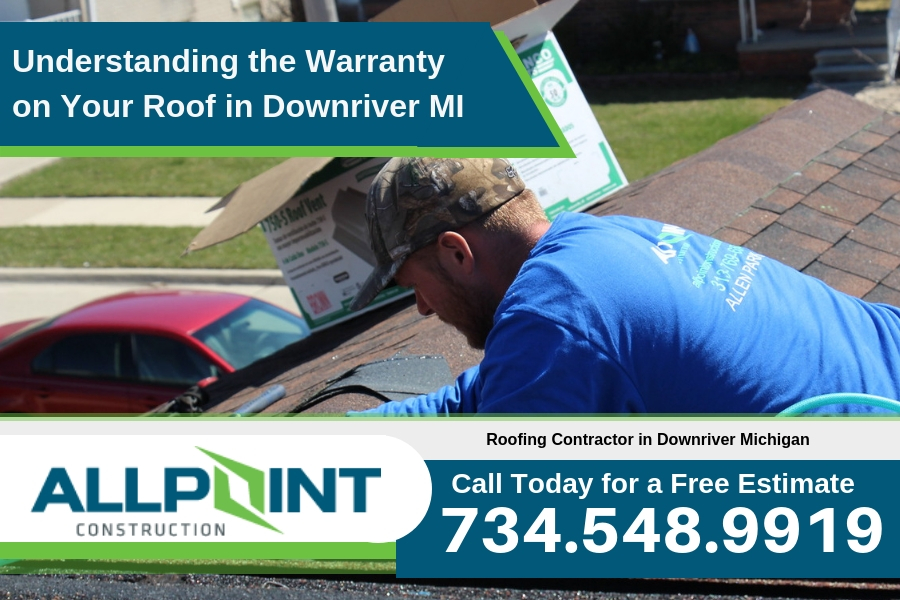 What Is A Warranty:
A warranty is essentially a legal promise that binds the provider of items or services to a certain standard or quality of work. The warranty hold the provider responsible for incomplete or unsatisfactory work and gives them a greater incentive to do a good job the first time around. Most times the warranty on your roofing will be honored by the manufacturer of the roofing product. Additional warranties or guarantees may be given by the roofing contractor in Downriver Michigan.
Protect Your Investment:
Much like any appliance in your home or electronic you buy, it is always important to look into warranties for your roof. Without warranties you are not protected once you have paid for your roof work. This means you can spend thousands of dollars on materials, labor and clean up, and then have to spend more money on top of that if anything goes wrong.
Guarantee Quality:
Sadly not everyone strives to put the best possible product out there. Some people cut corners and put making money over doing a good job. This means that warranties become crucial to guarantee you get what you pay for and don't get taken advantage of.
Work: To protect your home and guarantee that the work is done correctly and completely, it is important to have a warranty on the roofer's work. This gives you a guarantee that if something is left half done or if something happens to go wrong after the work is done and the roofer is paid, the roofer will have to come back and repair it free of charge. This not only helps you trust that the work will be done correctly the first time, but incentivizes the roofer to do the job thoroughly and as perfectly as possible so they don't have to come back out to do more work without getting more money.
Materials: A company may try to cut corners and use substandard materials to save them more money. Having a warranty on the actual materials means you get a free replacement if their materials don't hold up.
Preserve Your Home's Value:
Warranties provide confidence for you that you have chosen the right person or materials because the provider has confidence in their product. Having a warranty means you can rest assured that the work will be done and last as it should and your roof will function as it should. This means you don't have to worry about other problems from the roof and your home will not depreciate due to unresolved problems.
To learn more about the roofing materials that have the best warranties be sure to call one of the best roofing contractors in Downriver Michigan today at 734-548-9919. Downriver Roofers is a fully licensed and qualified roofing contractor in Downriver Michigan.