Want to add value to your home and make it more energy efficient? Then you should consider getting replacement windows installed in your home. Rated one of the best home improvement projects you can do for your home in terms of return on investment, replacing your home windows with newer, more energy efficient windows can be a huge boost to your home's value. Not to mention the added energy efficiency that will pay off month after month with new replacement windows in Downriver Michigan. There are several choices you'll need to make when it comes to getting new replacement windows however which will include the materials the frame is made from. One of the best is vinyl framed windows for a variety of reasons. We'll go over some of the advantages you'll receive by choosing vinyl windows for your home. 
When Picking Home Windows in Downriver Michigan Vinyl is Your Best Choice
If you live in the Northern area of the United States in places such as Downriver Michigan you know all about the insane weather you can sometimes get. Mother nature has a tendency to throw everything at you – such as torrential downpours, below-freezing temperatures, snow, and ice. Needless to say, having a hardy set of windows is necessary to withstand all of this punishment. More and more homeowners in the Downriver Michigan area are turning to All Point Construction for all of their window needs. They are happy to work with you to install windows specifically tailored to surviving the intense weather conditions of the Michigan climate.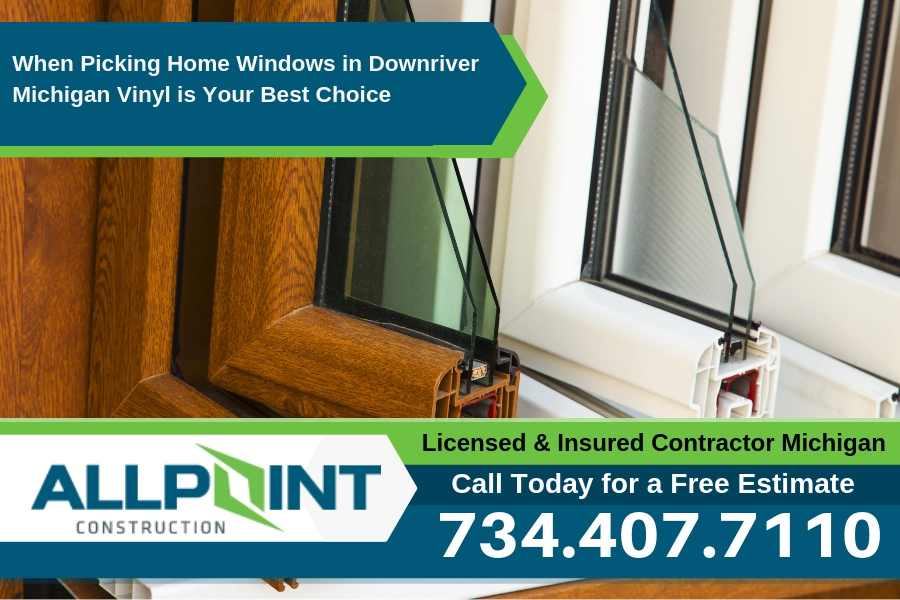 Why Vinyl Windows over Other Window Types?
Vinyl replacement windows have numerous advantages over other materials such as wood, aluminum, and steel. Being an artificially designed product this material has been built with durability in mind – immune to most natural elements vinyl windows should be your first choice when picking a window that is good for you. The three main aspects of vinyl windows is there incredible long life, their low upkeep, and impressive energy efficiency.
Vinyl Windows are Long-lasting
Whether it rain, sleet, or snow, vinyl windows have been made to weather it. You can expect incredible durability in the face of the changing environment. Whereas wooden windows can rot and become inundated with bugs, a vinyl window will keep on doing its job without having to worry about any chipping, cracking, or peeling. Many modern vinyl windows are built with multiple internal chambers – this helps stretch the already remarkable quality of this material even further.
They Require Little in the Way of Maintenance
Vinyl windows is often seen as the hassle free option when compared to other materials. Because they are practically immune to rot, rust, and decay there is little in the way of upkeep that needs to be done on these windows. This is especially relevant on second or third-story homes – a homeowner with all vinyl windows doesn't need to spend any time repainting or staining so high up. All vinyl needs is a little bit of soap and warm water to clean.
Cut Back on your Power Bill with these Energy Efficient Products
If you are thinking about investing into a new set of home windows you have probably thought how long it will take to get your money back on them. Vinyl, being a natural insulator, meets many of the requirements for an ENERGY STAR certification. Coupled with other features such as tinted windows, double and triple panes, means that a good set of vinyl replacement windows will put less stress on your HVAC system and save you money in the long run. You'll also enjoy a lower energy bill each and every month because of the windows.
Thinking About Vinyl Windows – Give All Point Construction a Call!
If you are interested in getting a great set of vinyl replacement windows for your Downriver Michigan home rest assured at All Point Construction they have everything ready to go for you. The certified team of window experts will be able to answer all of your questions regarding vinyl replacement windows and much more. Offering a huge range of different options, their professionals will be able to work with you to get the look that you want at a price that is more than satisfactory. Give them a call at (734) 407-7110 or use the online form to schedule an appointment today!