If you're like most home owners, understanding the condition of your roof is never thought about. It's a component of the home that's just there and doing it's job and really unless there is a problem on the roof it's simply ignored. While roofs are designed to last a long time with some roofs lasting over 40 years, it's always best to continually check on the roof. The best way to understand the condition of the roof and stop any potential problems is with a roof inspection on your home. Roof inspections are part of needed roof maintenance in Downriver Michigan and can help your roof last longer. 
Why Roof Maintenance in Downriver Michigan Is So Important for your Home
The roof on your Downriver Michigan home is hands down the most crucial part of your home. Consider what hits the roof of your home and what would be get into your home without a roof. Even the smallest problem can quickly become a huge issue as there is no break from the elements for your roof. This is why it is so crucial to have regular maintenance done on your roof. Not only stopping problems but it can also give you some peace of mind with your roof.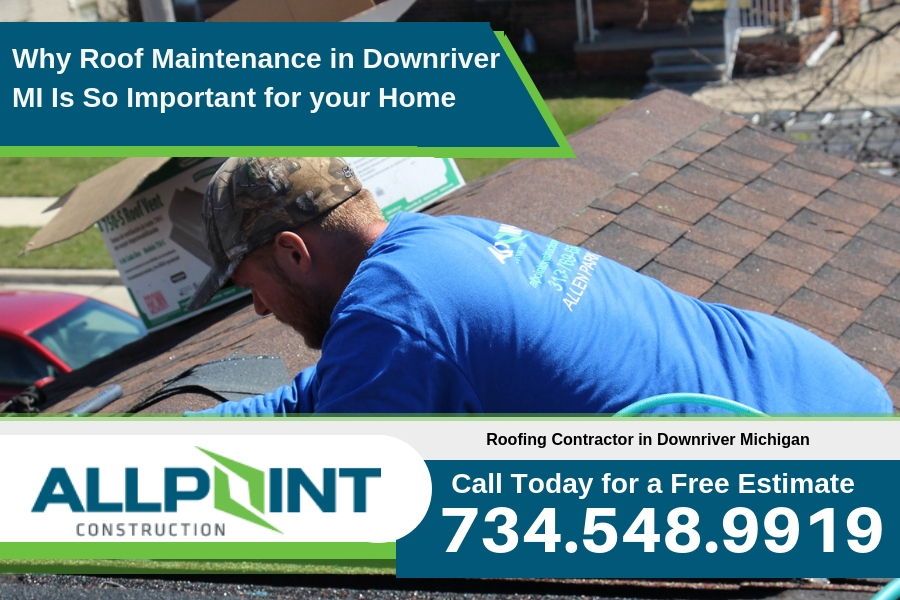 Find Problems on the Roof Faster with Regular Maintenance
It can be difficult to see your roof fully and really pick up on all the possible damage accruing at any given time. Because it isn't safe or responsible to have homeowners out on the roof looking for problems, it is advised you get a professional out to inspect it. Professionals know what to look for and will be able to spot potential problems much faster than an untrained person would.
This is especially important because you can end up with far greater problems that can spread from your roof to your attic, structural beams, and the entire house if left untreated. Unattended roof leaks can lead to all sorts of problems including mold growth in the home.
Lower Your Risk Of Problems In The First Place
When you find a problem with the roof on your Downriver Michigan home it can become much worse very quickly. So being able to prevent the problems in the first place is definitely preferable. So having a regular maintenance check on your home's roof will allow you to not only pick up on problems, but prevent potential problems by making sure everything is secured and there are no potential cracks or openings to become problems later on.
Save Money by Getting Regular Roof Inspections on your Home
Roofing problems can become very expensive very fast as it spreads throughout the home. Structural beam replacements, mold spreading throughout the entire home, and a full roof replacement can end up costing you thousands. And your home owner's insurance typically won't cover problems that they deem preventable and feel that you put off. This means huge out of pocket costs and the stress of getting it all done. So even if you need to replace shingles or switch to metal sheeting on your roof, you will be looking at a much smaller bill than if you leave it. So don't look at the costs of having an inspection done as a waste because you will end up saving much more in the long term by having regular inspections done.
Keep Your Home Looking Great
Whether you are looking to sell your home or just want to keep it looking great, it is important to make sure your roof is in good condition. Missing shingles, cracks and other problems can make your roof look less than adequate and will lower your home's value in the process. With all the styles and designs available, your roof can be as intricate and beautiful as the rest of your home. This can mean imperfections make the whole thing look wrong or poorly done.
To make sure your roof is in perfect working order, you should have a roofer come out and inspect the roof ever few months and have a capable and trustworthy contractor on call so you can have the problems fixed as quickly as possible. One of the best is Downriver Roofers. They offer free quotes on roofing services and have a full team of roofing experts ready to help. Call today at 734-548-9919 for more information.