Roof repairs in Downriver Michigan may not be at the top of your list when it comes to improvements you want to make on your home, but it should be. Even though a new kitchen may seem to be used more often, the roof is what will keep your home safe and livable so you can enjoy that new kitchen. The roof is the first line of defense your home has to weather and without it in proper working order your home will be susceptible to leaks, damages and mold.
⭐️⭐️⭐️⭐️⭐️ Why You Should Have Roof Repair in Downriver Michigan As Your Top Home Improvement Priority 🏚️🏡🏠🏘️
To protect your home and everything in it you need to keep your roof in good shape. If you have been putting off your roof repairs in Downriver Michigan and think it can wait, here are five reasons why you need to reconsider.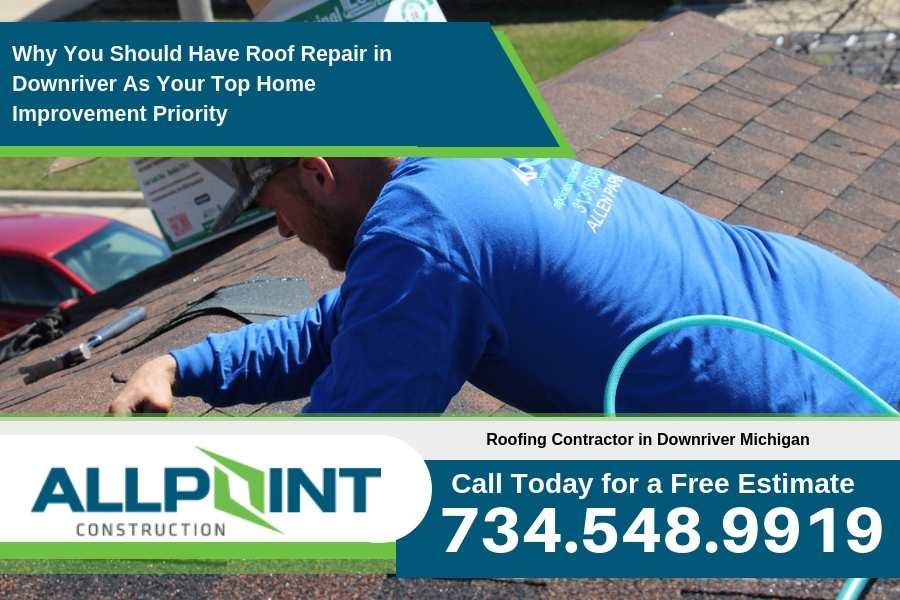 Air Quality: Water and humidity seeping into the roof can create the perfect conditions for mold to grow and can drastically affect the air quality in your home. Mold spores in the air can cause cold and allergy like symptoms and can have a major effect on the overall health of your family. Once mold starts growing it is very difficult to stop it and completely ridding the house of it will be an extensive clean up and removal to make your home safe and completely mold free and if the roof is not fixed or there are problems later on the mold can easily come back.
Property Value: If you are looking to sell your home the state of your roof will drastically impact its value. Roofs that are in need of repairs are a red flag for home buyers because there can be a lot more damage in the home stemming from the roof. If you want to get a good price for your home you will need to hire a contractor to inspect your roof and repair it. If any underlying damage is present you will have to fix that as well.
The smaller the problem, the smaller the bill: Long overdue repairs result in underlying damage and a much more complicated repair. What can start out as a simple replacement of tiles or clearing off the snow can turn into leaks, water damage and mold sooner than you might think. The bill goes up considerably when you have to remove, replace and clean up the shingles and sub boards and it becomes even more complicated when there are additional issues like mold and foundation problems to worry about.
Insurance costs: Insurance adjusters are able to tell if you have put off roof repairs or even just calling a professional to get an estimate. A lack of effort on your part to prevent further damage can cost you out of pocket expenses. Insurance companies will often only cover the basic roof repair costs because that is what it would have been if you had acted sooner. Negligence and inaction will cost you not only the rest of the repair expenses but possibly added expenses on your insurance payments because of your inaction.
Full Roof Repair: Roofs are designed to last 20 to 30 years but if the shingles and smaller problems go unaddressed it can lead to your roof needing to be replaced much sooner. When the patch job problems go unattended or you don't practice proper roof maintenance like snow removal and checking for cracked or missing shingles the issues will escalate much faster than you think and within months you can go from a few hundred dollars to thousands and a major home renovation just to get your roof replaced and up to code. You will be looking at additional costs depending on leaks and other issues, but nothing comes close to having to strip off the old roof, clean everything up and put on a new one. Especially if there are structural damages as well from the neglected roof. This means replacing support beams as well before the new roof can even be put on. This all adds up fast and will cost you a lot of money for what could have been a simple fix.
While a roof may not be the most fun or creative home improvement project, it is definitely the most necessary and time sensitive one. No matter how much you want a new kitchen or a fresh new look to your home, if the roof is in disrepair the whole home is at risk of having to have a lot more work done. Especially when dealing with mold, you may end up paying for two kitchens because you have to tear out the last remodel to clean everything up and make sure it is mold free. So whether you have noticed some missing shingles or you just haven't had it checked in a while, be sure to call a qualified roofing contractor in Downriver Michigan such as Downriver Roofers for a roof inspection. They offer free, no obligation estimates on roofing projects. Start by calling Downriver Roofers at 734-548-9919